"Then something Tookish woke up inside him, and he wished to go and see the great mountains, and hear the pine-trees and the waterfalls, and explore the caves, and wear a sword instead of a walking-stick." -Tolkein
March.  That time of year when I suddenly despise our homeschool curriculum and look forward to September, when everything's fresh and new. If I'm honest, there's nothing wrong with most of what we're doing. I'm just bored. This tends to happen. Every. Stinkin'. Year. Something Tookish wakes up inside me and I become restless.
So what's a girl to do? What I frequently do when I need more adventure; pick up a book.
While I love Diana Waring's history, I've found that we can only listen to so much a day (it's based on audio lessons) and so our read aloud time just never happens. This week we have decided to take a history break so I may read aloud to everyone. Our choice?
The Hobbit
.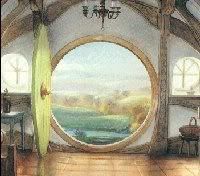 The kids gather in the living room and get comfortable (yes, even the teenagers) and I read. The Hobbit is perfectly suited as a read aloud.  The words flow nicely and feel good on the tongue. The adventure keeps everyone interested and we lose ourselves for a time. When we emerge from our story, I somehow feel as though both sides of my Bilbo personality have been appeased- I am comfy in my home and yet heading out to slay a dragon. Ah, the power of story.
Do you find yourself succumbing to the "winter blues"? What do you do in the "winter of your discontent"?