I'm not big on the domestic arts.  I know, I know, I'm not living up to the image you have of me but the truth is, I hate grocery shopping. I hate meal planning. And I hate cooking.  
Well, most of the time.  There are days when I'm alone in the kitchen, music blaring, glass of wine in hand...and suddenly I'm channeling Julia Child.  But these are not the norm.  The norm is me realizing that it's that time again and people are going to want to eat and are going to expect me to provide dinner.  Every stinkin' night.
Sigh.  Life would be so much easier if we didn't have to eat. Or if we lived in the Jetson's world and could just press a button, have a meal appear and have our lovely robot maid serve us. But alas, we're not there yet.
So along comes
E-mealz
.  Oh, I'm sure they're not designing their program specifically for those of us who will admit we're not Suzy Homemaker, I'm thinking they have the busy mom in mind more than anything, but it sure is a good fit for the "undomesticated" among us. It takes away the planning and the thinking and makes the "dreaded chore"* a bit easier.
E-mealz is a meal planning subscription service. You choose a plan, receive a new 7 day dinner menu each week, print your shopping list, grocery shop, and then follow the recipe.  Depending on the plan, the menus may be linked to that week's sales, which saves you money along with time. 
You may choose from the following plans:
Regular Family Meal Plans

Kroger
Publix
Wal-Mart
Aldi
Ralphs
Any Store
 Regular Meal Plans for Two

Wal-Mart
Any Atore
Aldi
Publix
 Specialty Family Meal Plans

Gluten Free (Wal-Mart)
Gluten Free (Any Store)
Low Carb (Wal-Mart)
Low Carb (Any Store)
Low Fat (Wal-Mart)
Low Fat (Any Store)
Low Fat (Publix)
Portion Control (Wal-Mart)
Portion Control (Any Store)
Portion Control (Publix)
Vegetarian (Wal-Mart)
Vegetarian (Any Store)
 Specialty Meal Plans for Two

Low Fat (Wal-Mart)
Low Fat (Any Store)
Portion Control (Wal-Mart)
Portion Control (Any Store)
Low Carb (Wal-Mart)
Low Carb (Any Store)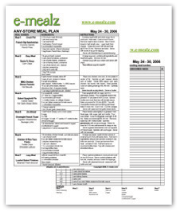 We don't have any of the listed stores near us but we do have a Wal-Mart Supercenter about 25 minutes away.  I decided to go ahead and give the Regular Meal Plan for Wal-Mart a try. 
As a member, you always have access to the current week's and the previous week's plan.
I downloaded the two weeks and was not too excited.  The meals were heavy on the cream soups, casseroles, and other things that just didn't fit the way we eat.  Out of the 7 days, there were only two I would even be willing to try.  I checked the other week and found three recipes I could use and decided to tweak the other days, using their suggestion but making it with my recipe (for example, chicken pot pie).
Dragging my husband off to grocery shop with me, I entered the store with my list and was immediately discouraged to find that the prices I had listed did not match up to the prices in my local Wal-Mart.  The meat was quite higher priced, other items were slightly more. It was a pain shopping from a list (I'm usually a throw-the-same-stuff-we-always-buy-in-a-cart-and-figure-it-out-later kind of shopper) and I left the store none too excited about this E-Mealz thing. Having a cranky husband who loves grocery shopping even less than I wasn't helpful either.  I was convinced I'd be writing a not-so-exciting review.
But wait, there's more. 
That week, when someone asked what was for dinner.  I had an answer. I could think through the list of meals, decide which one made sense for whatever was going on that night, and either cook it myself or pawn it off on allow one of my kids to make it.  Even those that I made according to my own recipe were appreciated because I had the ingredients and knew what I was doing.  
Hey, that's a biggie right there.
So I was seeing the benefit but I still wasn't a fan of the cream based and casserole type meals.  Thankfully, I could switch plans once in my three month trial period.  I swapped over to the Portion Control Any Store plan. Prices didn't line up for me at Wal-Mart, so why drive 25 minutes when I can shop at my local Stop & Shop?  And the Portion Control plan contained the point values for a certain Points Plus watching your weight program I am currently attempting.  But would the meals be a better fit for us?


The first week I downloaded had five out of seven meals I would try. The next week, four. The following week, five and the week after that, six. Much better odds of something I'd eat. And the thing is, our life is so busy that we don't eat seven meals a week at home! So if I have a six meal week and shop for it, it's likely to last me two or even three weeks. Works for me.
I shopped again for the six out of seven week. It seemed easier to shop with a list the second time around. I had the same experience with knowing what there was to make for dinner. And the food tasted good.  This particular week included Mediterranean Frittata, Apples & Onion Chicken Bake, Pizza Potatoes, Chicken Teriyaki with Broccoli, Blueberry Pancakes, and Taco Salad. My family was all up in arms about eating potatoes as a main dish and the thought of Pizza Potatoes?  Noses in the air.  But guess what? They loved it. Even my meat loving husband. Score one for E-Mealz.
At $15 every 3 months, I'm thinking this may just be worth subscribing to when my trial ends.  I don't use it exactly as is or even every week, but the time and sanity it saves me seems like it could be worth $5 a month.  I love the idea of it and as long as there are enough meals that are doable for us, it could be a winner.  The jury's not completely in on this one yet, but I'm liking the pros more than the cons at this point.
If you've read all the way through my novel of a review, what do you think?  Winner? Have you tried this service? Do you think it would be helpful in your home, Suzy Homemaker or no?
*All you Suzy Homemaker types are wincing at that description, I'm sure.  Yes, dinner can be a lovely time of family. Yes, lovingly cooking meals can be a great ministry to our husband and children.  I just don't happen to love it.  And I may be exaggerating my distaste for it just a tad for humor's sake, but there are days I find myself saying, "But I just made dinner two nights
in a row
! I don't want to do it again!". My family loves me anyway. And some of my kids like to cook.  It's a survival instinct, I think.
*Disclosure: I received a free 3 month trial of E-Mealz for review purposes. A positive review was not required, merely an honest one. For more reviews of this product and more, please see the TOS Crew.*