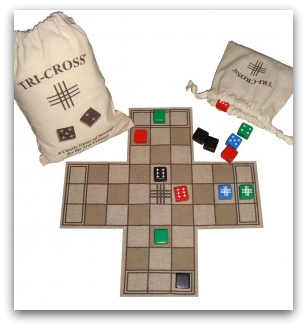 We love discovering new games and have found another winner!
Tri-Cross
is a strategy game that is a little bit chess, a little bit checkers, and a lot of fun. It comes in two versions; the board game pictured above and the eco-friendly travel edition you see on the left.
The directions flummoxed us at first, but it could have been lack of caffeine (that'll do it every time).  The good news is that there are
video tutorials
that show you how to play. So if you're like me and you'd rather have someone else read through game directions and then teach you to play, you're golden. We watched the first video, understood it immediately, and got right to playing.
I like that this is a game we can all play together and yet two or three people can pull it out and play anytime as well.  With wide ages ranges at my house, I love having games that we all can enjoy.  Tri-Cross is one of these.  It's easy to play and yet the strategy involved means a new game every time. Recommended!
Tri-Cross is available
online
or from your favorite retailer.  The standard version is $24.95, while the eco-edition will run you $19.95.  There's even a spiffy wooden version for $35.95!