If you've visited the blog in the last few days, you've probably noticed it was rather wacky for a bit.  I was afraid maybe the machines really
were
taking over and she'd developed a mind of her own. The white background refused to appear and the sidebars were relegated to bottom dweller status.  My blog was in rebellion.  What was I to do?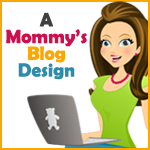 I emailed the designer of my blog, April, and asked if she could take a look.  I was afraid to mess with any code, as I didn't want to harm her design or cause any more attitude to appear from my beloved blog.  Thankfully, she was able to find an open html tag in one of my blog posts that was causing all manner of chaos and put it to rights.  The blog is back to beautiful and cooperative and I'm here to publicly thank April and also to encourage you to check her out for your blog design needs!  She's great to work with and, as you can see, does an excellent job.  She can be found at
A Mommy's Blog Design Studio
. Highly recommended!