I <3 My Nerd.
One question homeschoolers often hear is "
What about high school? How are you going to teach the higher maths and sciences?
".  It's a valid question, as this particular homeschool mom didn't move past Pre-Algebra in high school.  As far as science, I managed to sneak by with Earth Science and Wildlife Ecology on my transcript (I filled my schedule with the arts). So what do I do when my kids surpass me in my two weakest subject areas?
Call Dad.  Thankfully, my husband's strengths balance my weaknesses.  But honestly, how many hours does Dad usually have to teach the kids math and science?  At our house, that time is very limited and I need an alternative.  That alternative is frequently to be found in software or online help.  Virtual Nerd is an excellent example of the latter.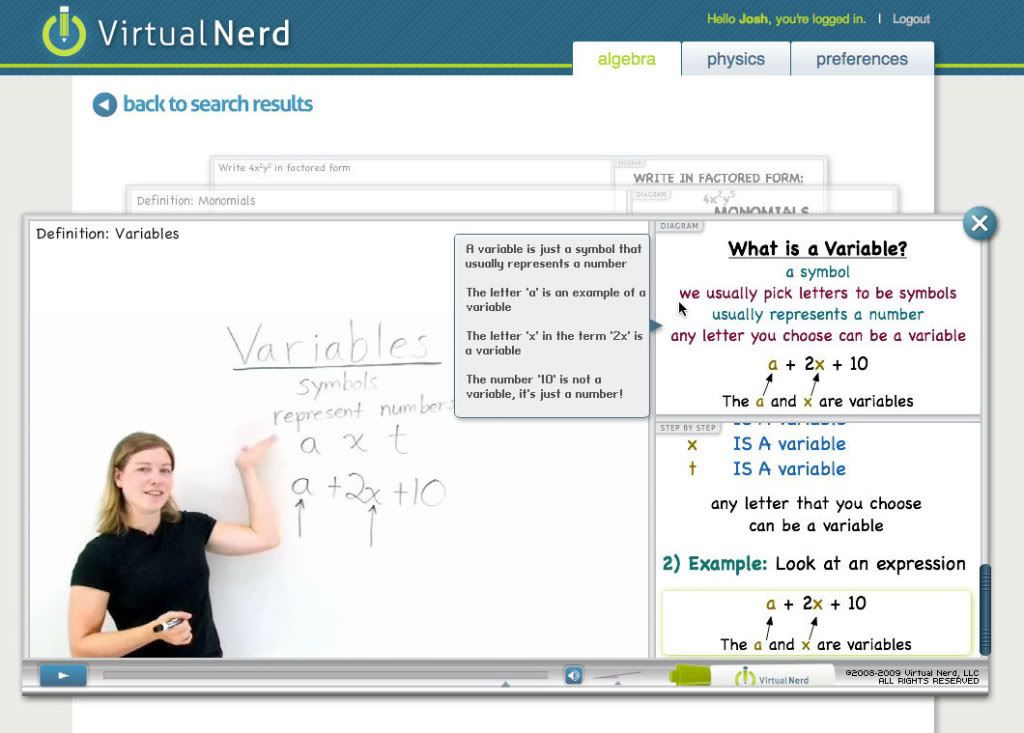 Virtual Nerd
's tagline is "
Real
help in math and science."  During my much too short review trial period (I want more Virtual Nerd!), I did find this to be true.  Virtual Nerd consists of interactive video tutorials, currently covering Pre-Algebra, Algebra I, Algebra II, and Physics.  They plan to add Geometry, Pre-Calculus and Calculus this calendar year, as well as Chemistry.  Their use of a "Dynamic Whiteboard" keeps it visually clean and easy to follow.
This product came to us at just the right time.  My fifteen year old was stuck at one section in his Algebra II book.  His father only had time for a quick explanation and that hadn't done the trick.  My son and I sat down in front of the computer, opened his book to find the proper search term, and entered distributive properties.  The whiteboard popped up and a very pleasant voiced woman began teaching us about distributive properties while working the problem on the board.  When she finished, my son looked at me and said, "Did you understand that?".  I replied honestly, "Nope. I was hoping you did."  He shook his head and echoed my "Nope." Thankfully, there were more links allowing us to move deeper into the explanations.  We clicked again and watched another.  The light began to dawn.  We watched a little further just to be sure and then there were squuees of delight as I realized I understood what she was teaching.  I mean that he understood what she was teaching.
Oh, who am I kidding.  This forty year old mom who never made it past Pre-Algebra was pretty thrilled to understand the Algebra II explanation.  And the fact that my son understood and then went on to finish his lesson without issue made me a huge fan of Virtual Nerd.  This is a product I would love to have access to at all times, for whenever my older kids need a little extra help with their higher math or science.  Unfortunately, this is where my love story with the Virtual Nerd meets a little heartbreak.
While Virtual Nerd is free to educators, this does not include homeschoolers.  This makes sense, as they hope the teachers will encourage parents to subscribe to their product as an alternative to pricey private tutors. Homeschoolers are also parents so this would obviously be a poor marketing tool for any company. GRIN.  Virtual Nerd is definitely worth paying for, and I know if you compare it to private tutors it is reasonable, but at
$129 for 3 months or $49 a month
it's out of my personal price range and most homeschooling families I know.  My heart was mended a bit though, when they added a
1 day access for $5 and a 1 week access for $19
.  You can also try it for
2 hours for FREE
.
As much as I would love to develop a serious relationship with Virtual Nerd, I will have to resign myself to knowing it is there for me when needed.  I highly recommend it and if you think you need a private tutor, you may want to check this out first.  Virtual Nerd can answer that question of what to do when your kids hit 7-12th grade and surpass you in knowledge! *wink*
*Disclosure: I received a six-week trial of this product for review purposes.  A positive review was not required, only an honest one.  For more reviews of this product and more, see the TOS Crew site.*