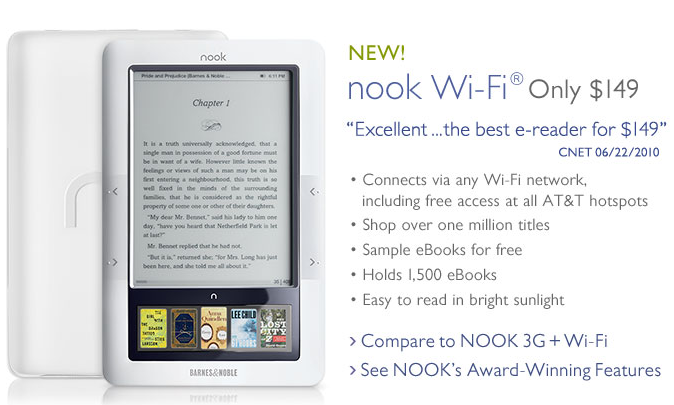 I blame my friend,
Lizzie
.  She knows my nickname is The Gadget Queen and she knew I would drool over her new Nook when she placed it ever so innocently (snort) in my hands.  It just so happened that I had recently sold a few homeschooling items I no longer needed and was in decision mode over what to purchase for school.  I asked Lizzie for help in decision making (rationalizing, excuses...you know the drill) and she lovingly pointed out the many e-books I had for review last year and how an e-reader would be soooo helpful in my reviewing.  Thanks, knew I could count on you.  That's what friends are for, right?
So I found myself in my local Barnes & Noble, buying a Nook from a young guy with tape on his glasses.  Does it get any better?  Yeah, well, it did when I began loading yummy books on to my new gadget.  I discovered B&N offers several FREE choices, with a new one offered each Friday.  You can also download your own e-books, which is what sold me on the Nook.
Eager to try out my Nook, I rewarded myself with pure pleasure reading in the form of the latest Goldy Schulz catering murder mystery,
Fatally Flaky
by Diane Mott Davidson.  I have read the entire series over the years, with this being number fifteen, I believe.  This series is just fun and centers around a middle aged caterer who seems to have a knack for discovering dead bodies, solving murders, and cooking.  Recipes are included, drooled over, and never attempted by me.  Maybe someday.
This makes book
32/52
for the 52 Books in 52 Weeks challenge.  Except, it doesn't, because I still have a few weeks to catch up on.  But I am confident that won't be a problem.  Especially with my new toy calling out to me to read it.  Read me, Seymour.  Er...yeah, not my name.  Which reminds me, I need a name for my Nook.  Seriously, there is a place on your Nook for it's name.  Mine is currently blank. My friend's is My Precious.  I need something equally as clever.  Any suggestions?
*Disclosure: I received nothing for this post, used my very own hard earned cash, and am rambling at no one's bequest but my own. As always, all thoughts and opinions are my own and nobody else would want to lay claim to them anyway. ;-)*