"More teens are turning away from the faith than ever before: it is estimated that as many as 70-88% of teens who profess Christianity walk away from their faith by the end of their freshman year of college.  Something must be done."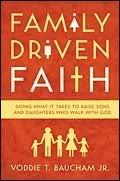 While I agree with Voddie Baucham Jr's quote, taken from the book jacket for his book,
Family Driven Faith
, I find that I do not agree with his conclusions.  Mr. Baucham slams other Christian "movements" while promoting his own and this concerns me.  His interpretation of a Biblical church model as a patriarchal, family-driven unit where everyone homeschools and there is no age segregation has the potential to be taken to extremes that smack of legalism and that I am not comfortable in recommending.  His ideas that a child's faith rests in how his father leads the family puts undue pressure on the father.  We have only to begin flipping through our Bibles to see evidence of godly men with ungodly children, and vice versa.  While I applaud the encouragement for men to be spiritual leaders in their home and to train their children, I believe in personal responsibility- and that includes our children.
Mr. Baucham states that the church's job is to equip the saints for ministry and when the church is teaching the children and teens, we are taking that role and responsibility away from the parents.  I disagree.  The children and teens ARE the saints as well and we are merely coming alongside parents as they "train up a child in the way he should go".  And if the parent is not doing so, this does not release us from our responsibility to equip them, it only increases that responsibility.
His view on youth groups also bothers me.  I completely agree that the church structure of today is broken.  The family structure of today is even more broken.  But I don't believe the answer is to ignore the broken people and expect them to integrate into "intact Christian families".  I used to hold to many of the same beliefs as Mr. Baucham but after fifteen years in ministry have found that these ideals don't always work in the real world.  Yes, teens are walking away from their faith in droves. Yes, the church structure of our western culture is sometimes messed up.  But I believe we need to work within the culture we live in, the structure we are given, and show whomever will listen, whomever God sends our way, His love and His grace and His truth.  Whether they come from broken homes, whether they are six or fifteen or eighteen or twenty four or sixty two.
I believe the young people of today are walking away because they have not grasped the full relationship with Christ.  They are walking away from a faith tradition, rather than their faith.  Let's give them real faith, let's show them who Christ is and pray He gets a hold of their heart.  That's a lot harder to walk away from.
I was disappointed to receive a second Baucham book from Crossway for review.  I had a similar reaction to his book,
What He Must Be If He Wants To Marry My Daughter
.  Believe it or not, I do NOT like to post negative reviews.  I WANT to like what I read and review!  I do, I do!  But I can't, in good conscience, recommend this book.  However, Crossway publishes many other great books and you can check them out by hopping over to their
blog
.
*Disclosure: I received this book through Crossway at no cost, for review purposes.*