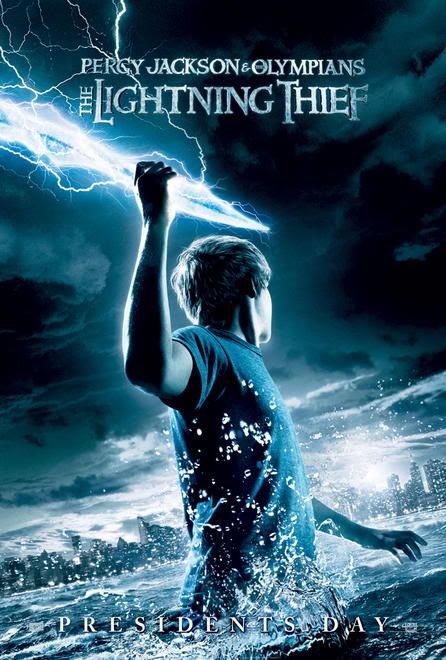 A friend from my writer's group mentioned that she and her family were enjoying the Percy Jackson series.  I knew the movie was coming out soon, we had just finished studying Greece, and it had taken us months to wade through our last read-aloud.  It seemed like a good idea to try reading
The Lightning Thief
to the kids and see how it went.
We finished in six days.
My kids begged me for just one more chapter until I spent the last day reading aloud from 10am until 4 pm and at last, we finished the first book in the series.  A couple of days later, we attended the fan party at Borders and I was excited to see my 12 year old reluctant reader (who thinks he is "too cool" to get into a book) enthusiastically raising his hand to answer trivia questions.  We looked forward to seeing the movie, wondering how our favorite scenes would be re-enacted on film.
They weren't.
We just returned from seeing the movie and the response across the board was one of extreme disappointment.  I understand the difficulty of adapting a book to the screen.  A book can go deeper into things that a movie doesn't always have the time to delve into.  The book is frequently better than the movie.  Unfortunately, this time the book and the movie are two completely separate animals.  It didn't seem like the screen-writer made any attempt to follow the book at all.  The plot was completely changed, major characters were missing, our favorite scenes were replaced with unfamiliar scenes that didn't even come close to matching the original.
It could have been such an engaging movie and instead it fell flat.  My husband, who has not read the book, found it to be simplistic and lacking any kind of depth or character arc.  I would agree.  They took a book about a 12 year old boy who struggles with dyslexia, ADHD, and an absentee father, a boy who grows into a hero, and turned him into a "typical teenager" on an adventure.  They changed his best friend from one who has failed and is seeking redemption so that he may follow his dreams, into a girl obsessed sidekick.  They took out the heart of the story and left something less than the Cliff Notes.  It's like the Cliff Notes of someone who has never read the book and only has a vague idea of what this whole Percy Jackson 'verse is like.
And they took out Ares.  That's just unforgivable.
I highly recommend the book.  It's a great adventure story that our whole family enjoyed.  The movie...well, not so much.